RESORTS IN INDIA : VANYA VILAS RESORT

Resorts in India
Taj Exotica Resort :: Ananda in the Himalayas Resort :: Aguada Hermitage Resort :: Udaivilas Resort (Udaipur)
Vanya Vilas Resort :: Coconut Lagoon Resort :: Kumarakom Lake Resort
Golden Palms and Spa Resort :: Sun Village Resort
Hotel Vanyavilas Resort (*****star)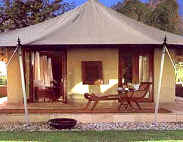 The Oberio Group's new luxury resort is located adjacent ot the famous Ranthambhore Tiger Reserve. Though the tigeris an elusive animal, sightings in the reserve are frequent. president Bil Clinton, during his visit to India in March 2000, saw two tigers at Ranthambhore in a single day.

Vanyavilas is the first luxury jungle resort in India. The resrot consists of luxury air-conditioned tents located discreetly so as to ensure maximum privacy. The tents, restaurant, bar etc. occupy only 5% of the site, thus maintaining its natural beauty. The Ranthambhore Tiger Reserve has a large variety of flora and fauna

Location:
Reputed to be India's first luxury jungle resort, the Vanyavil√Ęs Resort is located in Ranthambore - Sawai Madhopur, in the state of Rajasthan, India. The resort is situated 180 kilometers from the Pink city Jaipur, the capital of Rajasthan. Situated adjacent to the famous Ranthambore National Park, the Vanyavil√Ęs Resort is the ideal retreat to experience the wildlife of the park.

Accommodation in Vanyavilas Resort:
There is 25 Luxury Tents and each Tent has air-conditioned tent has an area of 790 square feet. Spacious, beautifully appointed interiors with teak wood flooring. Large well appointed marble bathrooms with free standing bathtubs, separate shower stalls and double vanity counters. Private deck for sun bathing and outdoor dining

Recreational Facilities:
Heated swimming pool and jogging track. Private therapy rooms to rejuvenated mind, body and soul. A games room and a lecture room for films and talks on wildlife by Mr. Fateh Singh, a well known naturalist and former Chief Conservationist of the Reserve.
There is an amphitheatre for live performances and a watch tower form where guests can view the reserve and its wildlife